Extra Information Window for
Cherubic Chinchillas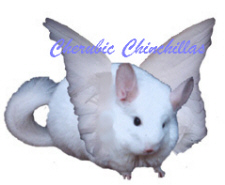 Our Breeding Stock comes from quality and champion bloodlines across the United States and are bred for a beautiful appearance and pleasant temperament. Babies are handled from birth on a daily basis. Chinchillas may be reserved with a deposit. You are welcomed to visit us in Garrettsville, OH to make your selection. Parents may be viewed on the premises.
Shipping now available via US Air with a minimum purchase--weather permitting. All chinchillas leave the premises with a veterinarian well check and health certificate.
Submitted: Oct 2/00